CBTL merchandises - from cups to stirrer to the coffee machines - up for sale
Okay.
With an aching paw, I limped towards the barista and placed my order with her, enquired about the member card but there's no rush to it. I'll get that done with at another time.
After I collected my order from another barista and placed them on the table where we sat at, I literally dumped my weight on the couch and immediately changed into flats, leading Leigh along too. Thank God there were no blisters. Whew.
Now, before I bore you with my words, let's look at the pictures instead.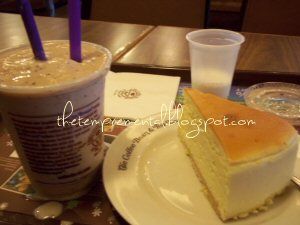 L to R: Iced Blended Berry'D Treasure at RM13.00 (S); Chicago Cheesecake at RM9.50 per slice
Berry'd Treasure froze my teeth at the first sip at that split second and left me speechless while I figured it all out. It carried to it a sweet and sour taste but more towards sour.
Chicago Cheesecake, as Leigh commented, had the lemony tang to it.
I don't usually have this variation of the iced blended; more of a chocolate or vanilla fan but the last drink had given me a bad sore throat to deal with. I love their cappuccino too but it's just that I was craving for a cold drink at that time.
I would always go for Chicago Cheesecake whenever I have the chance to stop by the nearest café; I have loved the taste all these years. And if it's sold out, only then will I ask for another type.... and it will most likely be the Berry Cheesecake – the sweeter one.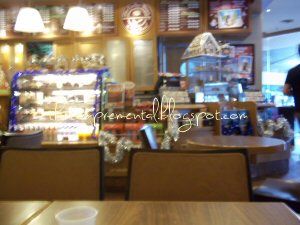 The F&B section
Blame Papa Carrie for it. Who asked him to introduce the Iced Blended on the cold, winter's night at aged 7 at the same cafe?
The barista area (and that'd be Leigh's fingers. xD)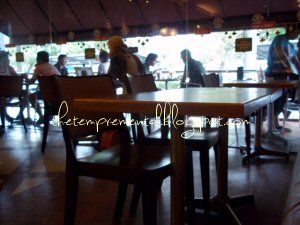 Another angle of the seating area
Coffee Bean & Tea Leaf,
Ground Floor,
Subang Parade