Note: This is a scheduled post.
I know Jeff will be happy to see another positive review of his traditional Chinese puffs.
After the disastrous tasting of the Seremban's Siew Bao, which stung Mama Carrie's taste buds with its enormous amount of sugar and salt, she started to crave for Mr. Siew Bao.
His Winter Melon Paste (老婆并, lao po bing) was perfect; it contained more winter melon and less sugar than its commercial rivals. Siew Bao (烧包, shao bao), on the other hand, was better than the one Mama Carrie bought on her return drive from Seremban. This particular one had just the right amount of salt, sugar and oil.
I can't help but wonder if Jeff had done his research before he launched the product and I want to give him a thumb's up for giving us
the
traditional taste.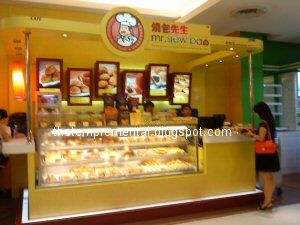 Address:
Mr. Siew Bao,
F1.K1, Sunway Pyramid
No. 3, Jalan PJS 11/15, Bandar Sunway,
46150 Petaling Jaya,
Selangor Darul Ehsan.
Landmark:
It's a mere booth away from Maxis on the 1st floor of the new wing.