This is the recipe for the "Egg, Ham and Big Onion with Cucumber Sandwich" that was featured on
First Sandwich Day
. (Directions are included, don't worry.)
Ingredients:
2 slices of sandwich loaf.
1 medium-sized egg
1 medium-size big onion, roughly chopped
1/4 cucumber, finely grated
3 Tbsp raw or cooked ham
1 stainless steel or non-stick pan
A little oil
Directions: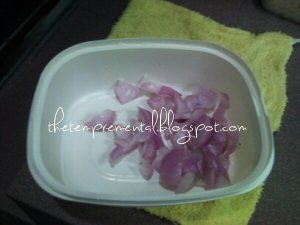 Roughly dice a medium-sized big onion. I'm using the purple onion from India, but feel free to use the Holland white onions.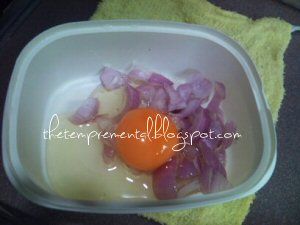 Crack and beat a medium-sized egg into a container before adding the ham.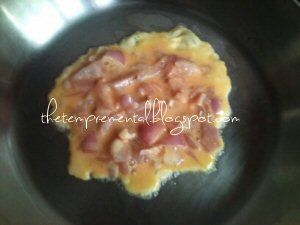 Pour the mixture onto a preheated and oiled stainless steel pan. If you're using Teflon, skip the oil.
Once it is fully cooked on both sides, set it aside onto a slice of bread.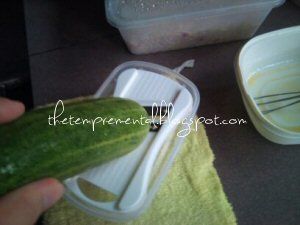 Finely grate the cucumber. You don't necessarily have to use the local cucumber. If your crisper has only the
kyuri
(Japanese cucumber), feel free to use it.
If you don't have a grater similar like this, just slice the cucumber with a knife.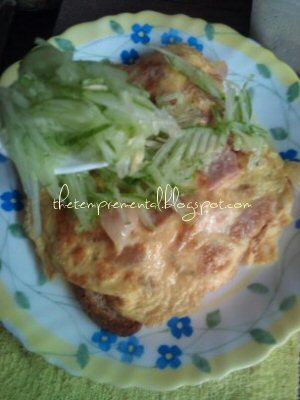 With a tablespoon, scoop the finely grated cucumber and spread it around the cooked egg with the back of the spoon.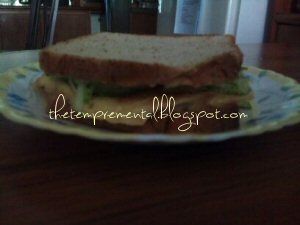 Press the cooked egg and the grated cucumber with another slice of the bread.
Although I ate my sandwich as it is, feel free to cut it in half if you find it more convenient.
Because this recipe was done at the spur at the moment, I know it doesn't seem "right". The directions are all over the place.
Give me some time; the next recipe of any kind should be a much more improved one.