It's not something that I'll whip up regularly as truth be told, I'm quite a lazy cook. I'll rather be seen polishing a plate of wan tan mee or popiah instead. But since Teochew Mama had errands to attend to, I figured that it's either I starved until dinner or ransack the pantry and make use of the ingredients that I can find in there.




Ingredients: 1.6L (8 cups) water + 1.3L (6 1/2 cups) water
100g brown rice noodle
6 mushrooms, washed and sliced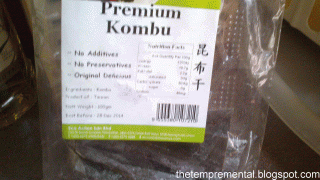 1 pc kombu, washed and soaked
2 eggs

Directions: Simmer 4 cups of water in a medium-sized pot on medium-high fire.




Throw noodles into boiling water. Let it boil for 3 minutes, or until soft.
Strain the noodles and leave in a bowl of iced water to cool.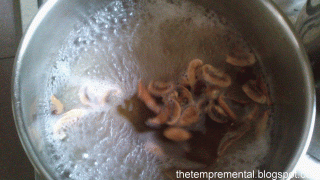 In another pot on medium-high fire, boil the mushroom and kombu in 4 cups of water until soft.




Strain and leave aside.




Simmer the eggs in a boiling pot with 1.3L water for 5 minutes or longer if you want a fully-cooked egg.

Feel free to plate it any way you want.