After reading Hayley's post on auction items, what better way than to follow suit? Not only will it be of good use to its new owner, this shared wardrobe will no longer be cluttered. (Some of Teochew Mama's fashionable clothes from the 80s have eaten a good 25% of the wardrobe space.)

Item #1: This dress, Teochew Mama had bought for my birthday some years ago and I'm selling it off now as I've gained a bigger bottom since then. Not only will the chubby thighs ruin the beauty, my hunching won't bring the best out of it and radiate the elegance that is worthy of the dress.

As you can see, it has a V-shaped neckline with side pockets; there is simple embroidery around the bust line.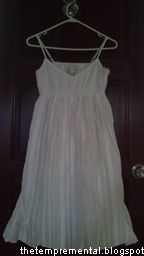 Front view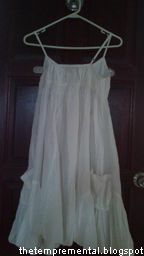 Back view

Size: M.

Selling at RM 40 (postage included).

Item #2: Likewise with this Korean 4-inch high heeled shoe, she paid quite some money for it as the boss refused to slash the price even further.

I'm selling it off as I've realized this footwear is never meant for me. Whenever I'm wearing this, I'd constantly sprain my ankle; the last time around, I missed a step and tripped, landing face first onto the grassy ground on a broad Sunday daylight.



Side view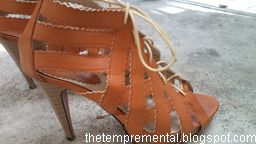 Side view #1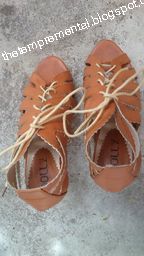 Top view



Top, diagonal view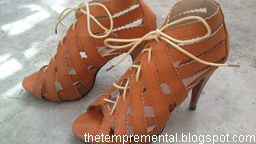 Side view # 2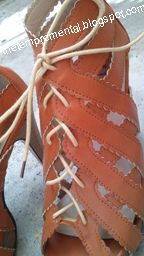 Front view

Size: Euro 38 (which, when converted, will mean a size 7 US).

Selling at RM 50 (postage included).

It's only for serious buyers. If you are interested, feel free to drop a comment and for those who don't have a Blogger or Wordpress account, please leave behind your name and email address as well so that we can arrange with the payment.

Once sold, any request for a refund or an exchange won't be entertained.

P.S. Thank you very much for browsing through. =)