With the cloudy and hazy air leaving me glued indoors with resentment and boredom, I'll have to momentarily break away from today's post and vent my frustrations at the lack of rain. The only relief now is rain, be it natural or artificial.

If this situation were to continue, there's only one road: the PSI in Klang Valley will worsen, sending almost everyone crawling to the hospital with respiratory illnesses.

And the haze is expected to last until August!

As sad as it sounds, we had grazed past this subject before, and seeing that since the flight departure to the lovely refuge neared, this was the right time to remain true to our word and meet up again for the one final time - at Subang Parade.

Oh, guess what I had found in Jaya Grocer?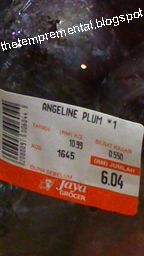 A variety of plum named after my friend! Coolies! =O

I had arrived earlier to deal with the groceries and some other errands and with the extra time that I had, I browsed through Parkson and finally hovered towards Dome when I was bored, waited until Kar Wyai arrived.

She hadn't known that I was already there until I whispered her name aloud when she passed me by. After the usual hugs and words, it was time to satiate the cravings.

When she whined that I had presented her with far too many presents, I confessed that I can't afford to screw up my chances again, especially with what I went through with our mutual friend.

Her: "I can't believe that he has forgotten you."
Me: "If a photograph of your birthday party can't shake his memory up, then I'm afraid the whole friendship thing is as good as dead."
Her: "And you two were neighbors, right?"
Me (scowling at the mutual friend): "Yes."

I wouldn't blame her for that; it's been embedded in me. =/

After lunch, we walked around the mall like a herd of lost sheep, unsure of our next plan and saw the following: J&Co Donuts had taken the retail lot that Delifrance had once occupied for a decade and now that they have moved somewhere else, Big Apple Donuts filled up the space; Chatime occupied a comfortable kiosk behind; and Desserts Bar was replaced by another F&B outlet, whose name have since slipped away from the mind.




MPH was ahead of us, and we headed inside. A quick browse through the aisles of literary classics and romance novel led me to purchase the books that I have longed for a while now: Dante's Inferno and Nicholas Sparks's The Choice.

Plus Jane Green's Family Pictures, and just for these three books, I was RM 110 poorer.

The hobby of reading would be best pursued in the States or some other Western countries, where reading as a past time is encouraged by the school.

Dessert was next; and without much hesitation, Coffee Bean was the mutual choice.

As the day approached and with Teochew Mama needed to see the Chinese physician, we broke off and bid each other adieu and wished each other luck in whatever decisions that we'd make in the near future.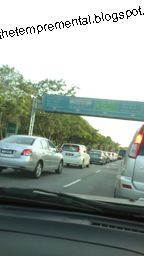 On our drive home, we had to battle the traffic congestion everywhere. =/ Pfft!