Today is a continuation of the the previous post.




We headed for Ikano after dealing with the motor insurance and easily found a vacant parking space to safely ditch the car. Come to think of it, why is it always the same spot available and not the ones nearer to the entrance?

Never mind; walking back and forth to collect the dishes that I had ordered was more terrible. You know why? I felt the brutal sun turning me into a shade darker than I already am. I know I could've asked Teochew Mama to send me off while she searched for a parking space but she wanted to tag along.

But enough of me.

I have to warn you that since the food were all packed for takeaway, the presentation on the pictures may differ from the real deal.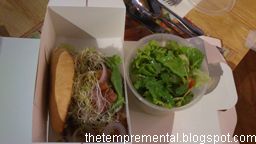 Smoked Salmon and Avocado (RM 23.90, comes with a salad and French Fries)

Teochew Mama: My only comment that it will taste the best if it is served warm from the kitchen but on the brighter side, it contains less salt. The French Fries were too salty!!!




Chunky Tuna (RM 21,90, comes with a salad and French Fries)

Ciana Carrie: Yum! I'm glad that it contained less salt that I had expected and although it was creamy with mayonnaise, it was not that oily; it provided me with the hunger satisfaction that I struggled to polish the plate. Well, not wanting to waste the meal, I slowly nibbled on the last bites instead.

For someone who doesn't fancy eating salads, I pretty much loved the simplicity of the salad. Just some lettuce leaves and a drizzle of olive oil, nothing heavy.




Spaghetti with Olive Oil and Herbs with Fresh Button Mushroom (RM 20.90)

Ciana Carrie:
I knew that I had ordered the right dish at the first bite and felt

spaghetti smoothly gliding down my throat, coating the entire mouth with olive oil and spicy hints of black pepper. A big thumbs up!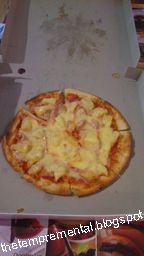 Pizza Hawaiian (RM 25.90)

Teochew Mama: Although there is more melted cheese than I can accept, the bacon has certainly provided a chewiness to it. Man, it certainly is tastier than it looks!




Marble Cheese Cake (RM 10.90)

Teochew Mama: It's unfortunately too sweet.

Ciana Carrie: When I first placed the order, I was expecting to see swirls on the surface and Graham crackers as the crust. As it turns out, crushed chocolate biscuits were used as a substitute (which is a good and unique choice; have never seen this before). What Teochew Mama said, I have to disagree. To me, though it was sweet, it was not overly sweet as the chocolate provided enough sugar, with the cake having identifiable traces of cheese.

If I can add some last few words, I will have to say that it was quite a lot of food for the two of us to finish. Half of the spaghetti and the pizza is in the fridge, waiting to be gobbled for yet another lunch and/or dinner.

*sigh*

Last but not least, a big thanks to Foodpanda for sponsoring today's meal by issuing the RM 120 voucher.




Address: House Restaurant.Bar.Winepost,
G23A-26 & EG23A-26,
Ground Floor, e@Curve,
Jln PJU 7/3, Mutiara Damansara,
47810 Petaling Jaya

Tel: 03-7722 2414

Website: www.housegroup.com.my

Landmarks: Maxis, The Espresso Bar