Since eating a cake slice has become such a labor for me, it dawned on me that I should adapt the recipe into something convenient, something that could be eaten on the go.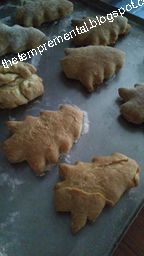 Ingredients: 2 cups cake/pastry flour
1 tsp baking powder
1 tsp baking soda
2 tsp light brown sugar
1 tsp fine salt
50 g butter
2 eggs, beaten
Splash of vanilla extract

Other Items: Rolling pin
Cookie cutter
Baking trays

Directions: Sift dry ingredients into a mixing bowl.
Throw the near-room temperature into the mixture and mix it in with your fingers until it is flaky.
Fold in the eggs until a crumbly texture sets in.
Pour onto a floured surface and knead until all the loose doughs come together.
Leave aside for 15 minutes.




After resting, roll the dough into an inch thick.
Divide using a cookie cutter of your choice.
Place individual pieces on a well-oiled and well-floured baking tray.
Whack in the oven for 20 minutes at 180C.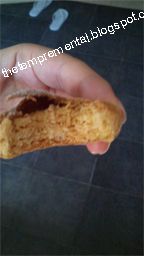 I have taken a bite; there is a strong taste of butter. =/



Best served straight from the oven.